A new owner for Berthéas!
The Cheynet Group sells Berthéas & Cie
The Cheynet Group, chaired by Mr. Grégoire Giraud, sold the entire capital of Berthéas & Cie (Saint-Chamond – Loire) to the Laurent Leport tandem (new majority shareholder / former international manager at CapGemini) and Olivier Balas (President of Balas Textiles and President of Unitex) accompanied by the investment fund Sofimac/ UI Investissement as a minority investor. To complete the financing of the acquisition, senior debt was syndicated with CIC and Banque Populaire banks.
Berthéas is one of the leading French manufacturers of technical elastic fabrics for the medical sector, accounting for 70% of sales (fabrics for orthotics) and 30% for industry and men's underwear. With a turnover of nearly €7 million, of which more than 30% is international, Berthéas has weathered the health crisis satisfactorily thanks to innovation, the sectoral and geographical diversity of its outlets, and is generating good profitability. With a very sound financial structure, Berthéas has the financial means to develop strongly internationally.
Laurent Leport et Olivier Balas : « Berthéas, une belle entreprise française championne du « made in France », a un potentiel certain lié à la qualité de ses savoir-faire et des hommes sous la direction de Jean-Pierre Cheynet, Directeur Général. Notre ambition est de faire croître cette entreprise bientôt centenaire en l'ouvrant sur de nouveaux marchés ».
Grégoire Giraud: At the time of the retreat, I sought, above all, a team that could give a new impetus to Berthéas. Laurent Leport and Olivier Balas are the suitable partners for this new stage. Jean-Pierre Cheynet remains by their side to accompany them."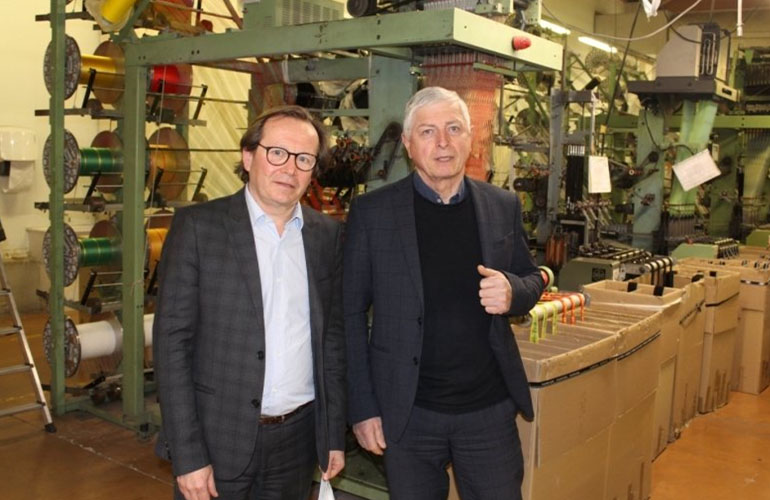 Laurent LEPORT & Olivier Balas